The History of Screen Printing from then til' now.
Screen printing first appeared in a recognizable form in China during the Song Dynasty (960–1279 AD). Japan and other Asian countries adopted this method of printing and advanced the craft using it in conjunction with block printing and hand applied paints.
Screen printing was largely introduced to Western Europe from Asia sometime in the late 18th century, but did not gain large acceptance or use in Europe until silk mesh was more available for trade from the east and a profitable outlet for the medium discovered.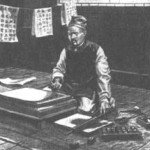 Originally a profitable industrial technology, screen printing was eventually adopted by artists as an expressive and conveniently repeatable medium for duplication well before the 20th century. It is currently popular both in fine arts and in commercial printing, where it is commonly used to print images on Posters, T-shirts, hats, CDs, DVDs, ceramics, glass, polyethylene, polypropylene, paper, metals, and wood.
In 1960 american entrepreneur Micheal Vasilantone would revolutionize the screen printing industry with his rotary press.
The original rotary machine was manufactured to print logos and team information on bowling garments but soon directed to the new fad of printing on t-shirts. The boom of this new fad of printing on t-shirts made the rotary garment screen printing machine the most popular device for screen printing in the industry. Screen printing on garments currently accounts for over half of the screen printing activity in the United States.
Today most screen printing shops have advanced even further with the introduction of automatic screen printing press. The benefits of these machines is that large quantities can be produced rapidly, up to 1800 shirts in 1 hour. The current speed loading record is 1805 shirts printed in one hour, documented on 18 February 2005. Maddie Sikorski of the New Buffalo Shirt Factory in Clarence, New York (USA) set this record at the Image Wear Expo in Orlando, Florida, USA, using a 12-color M&R Formula Press and an M&R Passport Automatic Textile Unloader. The world speed record represents a speed that is over four times the typical average speed for manual loading of shirts for automated screen printing.
Printing technique
A screen is made of a piece of porous, finely woven fabric called mesh stretched over a frame of aluminium or wood. Originally human hair was used, then silk was woven to make a screen mesh; currently most mesh is woven of man-made materials such as steel, nylon, and polyester. Areas of the screen are blocked off with a non-permeable material to form a stencil, which is a negative of the image to be printed; that is, the open spaces are where the ink will appear.
The screen is placed atop a substrate such as paper or fabric. Ink is placed on top of the screen, the operator then uses a squeegee (rubber blade) to move the mesh down to the substrate and pushes or pulls the squeegee across the screen. The ink that is allowed to pass through the mesh opening is pumped or squeezed by capillary action to the substrate in a controlled and prescribed amount, i.e. the wet ink deposit is proportional to the thickness of the mesh and or stencil. As the squeegee moves toward the front or rear of the screen the tension of the mesh pulls the mesh up away from the substrate (called snap-off) leaving the ink upon the substrate surface. Textile items printed with multi-color designs ften use a wet on wet technique, or colors dried while on the press, while graphic items are allowed to dry between colours that are then printed with another screen and often in a different color after the product is re-aligned on the press.
Inks Used for Screen Printing
Plastisol
the most common ink used in commercial garment decoration. Good colour opacity onto dark garments and clear graphic detail with, as the name suggests, a more plasticized texture. This print can be made softer with special additives or heavier by adding extra layers of ink. Plastisol inks require heat (approx. 150°C (300°F) for many inks) to cure the print.
Discharge inks
used to print lighter colours onto dark background fabrics, they work by removing the dye in the garment – this means they leave a much softer texture. They are less graphic in nature than plastisol inks, and exact colours are difficult to control, but especially good for distressed prints and underbasing on dark garments that are to be printed with additional layers of plastisol.
Water-Based inks
these penetrate the fabric more than the plastisol inks and create a much softer feel. Ideal for printing darker inks onto lighter coloured garments. Also useful for larger area prints where texture is important. Some inks require heat or an added catalyst to make the print permanent.
Expanding ink (puff)
an additive to plastisol inks which raises the print off the garment, creating a 3D feel.
Flocking
consists of a glue printed onto the fabric and then foil or flock (or other special effect) material is applied for a mirror finish or a velvet touch.
Four colour process or the CMYK color model
artwork is created and then separated into four colours (CMYK) which combine to create the full spectrum of colours needed for photographic prints. This means a large number of colours can be simulated using only 4 screens, reducing costs, time, and set-up. The inks are required to blend and are more translucent, meaning a compromise with vibrancy of colour.
Glitter/Shimmer
metallic flakes are suspended in the ink base to create this sparkle effect. Usually available in gold or silver but can be mixed to make most colours.
Gloss
a clear base laid over previously printed inks to create a shiny finish.
Metallic
similar to glitter, but smaller particles suspended in the ink. A glue is printed onto the fabric, then nanoscale fibers applied on it.
Mirrored silver
Another solvent based ink, but you can almost see your face in it.
Nylobond
a special ink additive for printing onto technical or waterproof fabrics.
PVC and Phthalate Free
relatively new breed of ink and printing with the benefits of plastisol but without the two main toxic components. Has a soft texture.
Suede Ink
Suede is a milky coloured additive that is added to plastisol. With suede additive you can make any colour of plastisol have a suede feel. It is actually a puff blowing agent that does not bubble as much as regular puff ink. The directions vary from manufacturer to manufacturer, but generally you can add up to 50% suede additive to your normal plastisol.
We hope that this has helped you understand a little bit about our industry that is continuing to grow and evolve. We are excited to be a part of it and look forward to what the future brings to the Screen Printing Industry as well as our company.


Designed In Ink, LLC