When it comes to screen printing Phoenix not all garment inks are equal. There have been many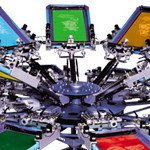 advance in the garment decoration industry within the last 10 years and is evolving as we speak. Some of the older shops are unwilling to change their process to include some of the new inks on the market. In fact we are one of a handful of shops in Arizona that even offer discharge printing. Let us help you select the right ink for the job
Standard Inks
The old tried and true screen printing ink is called Plastisol ink. The ink has a plastic additive that when cured to the correct temperature bonds to the shirt and to itself creating a long lasting print.
Pros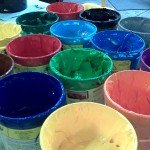 Color Matching to pantone colors is a breeze
Very opaque print on dark garments
Less costs involved to setup
Cons
Large image areas make the shirt feel heavy where printed
Image area cracks after constant wash and dry cycles (30-50)
To ensure the life of a print wash inside out and never iron the print area
Waterbase Ink (No Longer Offered at Designed In Ink)
Water base inks are really interesting and can be very tricky to print at times. Water base ink produces the softest hand feel out of all inks. What is soft hand you ask? Soft hand is a term in the industry that describes how the ink deposit feels after printing. Did you know there are only a hand full of companies in Arizona that print waterbase inks? With water base the ink actually dyes the fabric in the shirt rather than lay ink on top of the garment which leaves no feel after the shirt is washed.
Pros
Produces a no feel effect on garments
Colors can mix together to form new color variations
Very vivid color spectrum
Eco Friendly
Cons
Color matching can be difficult especially on dark garments(See discharge printing)
Waterbase does not show up on dark garments (See Discharge Printing)
Shirt fibers can appear in print areas, image may look distressed after first few washes
More expensive thank standard ink
Discharge Printing (No Longer Offered at Designed In Ink)
Discharge printing is the process of printing water base ink with a discharge agent. This discharge agent acts as bleach which will remove the dark color from the shirt and replace it with the water base color that is mixed. Sounds interesting huh? It is a very cool process which we happen to specialize in. Discharge can only be used on 100% cotton shirts. In our testing 50/50 blend shirts appeared dull and washed out. It is also recommended that if your product is resold that you wash the shirts or instruct your customer to wash the shirts prior to wearing them. The agent used in discharge can be a skin irritant and frankly smells a little strange.
Pros
Soft hand Feel
Permanently Dyes Fibers in the shirt
Ability to print larger image areas
Cons
Color shades may very depending on the garments discharge ability. Consult a sales rep to determine the best application for you
More expensive than standard inks
Foil Printing
Looking for that extra shinny effect on your garments? Foil may be the way to go. Many fashion and clothing lines(now bands and artists) use foil to accent and highlight certain areas of their garments. We print a thin layer of adhesive in the design that will be foiled. Foil Printing can add that extra zing to any t-shirt design to leave a lasting impression. We then heat press the foil onto the garment and anywhere the adhesive was printed the foil will stick to.
Specialty Inks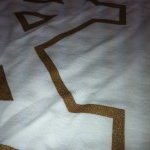 We have a wide range of specialty inks on our shelves which include puff, reflective, shimmer, glow in the dark, suede, florescent.
(No Longer Offered at Designed In Ink)